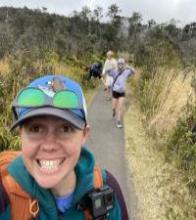 About Me
What inspired you to get into the field of education?:
I love learning and people, so teaching was the absolute perfect fit. I've always felt that high school can be tough for kids and I always strive to make my classroom a place where students feel safe and know they belong while also finding themselves challenged academically. Social studies has also been my favorite field of study for as long as I can remember and I love having the opportunity to share that passion with others.
What's the most rewarding part of your job?:
I love watching students transform throughout their high school years. They change so much between the first day of ninth grade and graduation and it is incredible to see their progress and watch them as they take on the world.
General background information (years in education, degree(s), Universities/Colleges attended):
BA History; Colorado State University - 2009
MA American History; Gilder Lehrman Institute of American History - May 2020
Interests/Hobbies:
Baseball.
Hockey, football, lacrosse...and all other sports...photography, hiking, SUP, alpine skiing, digital history, reading, and exploring the world :)
Thought Provoking Quote:
"Success is not final, failure is not fatal, it is the courage to continue that counts" - Winston Churchill
My Classroom
Courses Taught:
United States History
American Government
Colorado History
Cold War
Fort Collins Social Studies
National Parks
World Politics
World Geography
About My Classroom:
My classroom is built around empowering students. We have a variety of seating and movement options and classes are designed to allow students as much choice as possible while pushing them to develop skills rooted in the social sciences such as reading, writing, analyzing, and crafting quality arguments. It is a student-driven environment where we work to learn and grow together on a daily basis.