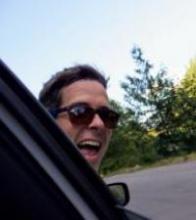 About Me
What inspired you to get into the field of education?:
Pursuing a career in education was an easy choice for me. I knew that I wanted to study and discuss complicated issues in our society and in our world. I also knew that I wanted to spend my time with young people, because from an early age I understood that adults are generally not to be trusted. I also knew that I wanted time to travel, have adventures, and spend time with my family. Teaching fits all these requirements--and I'm so happy that I chose the field, and lucky that I ended up at Polaris!
What's the most rewarding part of your job?:
The most rewarding part of my job is helping students overcome both academic and personal obstacles. I love helping students master difficult concepts and assisting them in articulating their nuanced ideas. And nothing is better than catching-up with a former student and seeing how the skills we cultivated in class are bearing fruit in the 'real world.'
General background information (years in education, degree(s), Universities/Colleges attended):
I have worked in public schools since I was 19 years old. My first job was at the Cordley Elementary School after school program in Lawrence, Kansas - in 2001. At the time I was working on my degree in Secondary Social Studies Education at the University of Kansas, which I obtained in 2005. Since then I've had a wide variety of teaching jobs - everything from teaching elementary school children with Autism, at a juvenile detention center, a language academy in southern Mexico, a junior high School in Wyoming, and a high school on the western slope of Colorado. After earning my Master of Arts in history at Colorado State University in 2013, I started teaching social studies and English classes at Polaris.
Interests/Hobbies:
When I'm not teaching I love spending time with my family and getting wild in the great outdoors. I enjoy hiking, riding my bike, rafting, camping, skiing, planning my upcoming adventures, looking at the stars, and reading.
Thought Provoking Quote:
"Find more pleasure in intelligent dissent than in passive agreement, for, if you value intelligence as you should, the former implies a deeper agreement than the latter." --From Bertrand Russell's "10 Commandments for Teaching"
"You might not think there's poop in there, but there is." --From my sister-in-law, Maggie, when she was six years old, regarding a new green house on her family's farm (but which could be applied to nearly anything).
"Believe me, my young friend, there is nothing--absolutely nothing--half so much worth doing as simply messing about in boats." --From the Water Rat in Kenneth Grahame's The Wind in the Willows
My Classroom
Courses Taught:
At Polaris I have taught English 9, World Literature, World History, Russian History, Government, Economics, History of Rock and Roll, College-Prep Reading and Writing, Debate, Current World Affairs, and Crew.
At other schools I have taught US History, Comparative World Governments, and US-Mexico Borderlands History.
About My Classroom:
In my classroom we explore important ideas, events, processes, and people that have made the world that we live in today. I strive to always treat students with respect while holding them to high standards. We learn to articulate our ideas about complicated topics, and to treat everyone--especially those with whom we disagree--with civility and respect.