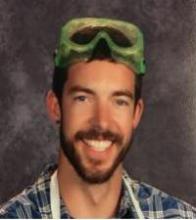 About Me
What inspired you to get into the field of education?:
Nature is my playground!
As a teenager, my life changed when I began working as a cabin counselor at Camp Chief Ouray in Granby, CO. After growing up in Michigan, I was amazed by the mountain scenery and lifestyle. Also, during that summer I embarked on my first backpacking trip which furthered my love for the mountains. Since those early days working with teenagers and exploring the wilderness, I have taken several opportunities to work at other summer camps, outdoor schools, and teen adventure outfitters. My love for nature as well as my desire to mentor teenagers has lead me to this wonderful job of teaching middle school science. When I am not in the classroom, you might catch me outside running the trails around Horsetooth reservoir, shredding the gnar at Cameron Pass, or climbing the peaks in Rocky Mountain NP. I am refueled by these types of adventures and inspired by the students in my classes to create an engaging science classroom environment where all learners are capable of thriving!