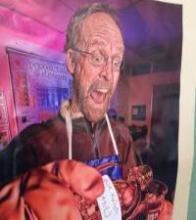 About Me
What inspired you to get into the field of education?:
Originally, as a geologist with Exxon after college, I was encouraged to volunteer in the Need to Read program. Helping young students learn how to read somehow flipped a switch within me and turned me on (no pun intended :) to teaching.
What's the most rewarding part of your job?:
While there are lots of rewarding parts of this job, perhaps the most impactful for me is in developing supportive and healthy relationships with students. Their ideas are so interesting and the reciprocal learning and growth that occur keep me coming back everyday.
General background information (years in education, degree(s), Universities/Colleges attended):
Born and raised in the swamps of Houston, Texas, I spent much of my childhood getting into some form of mischief. It wasn't until I attended undergraduate school at Trinity University in San Antonio that I finally discovered my passion for geology (.....and left some of the mischief behind). I went on to pursue graduate studies in geology at the University of Tennessee-Knoxville and, just after earning my M.S., took a position as a petroleum geologist with Exxon in Midland, Texas. While at Exxon, I had the good fortune to be able to volunteer with youngsters learning how to read and this motivated me to look into teaching as a career. We moved to Fort Collins and I enrolled in and graduated from Project Promise, a CSU educational licensure program intended specifically for people like me with previous industry experience. Upon graduation, and due to job interview errors on my part, I was not hired in the Loveland school district (thankfully) and instead found a home at Weld Opportunity alternative high school in Greeley. After ten years there, I discovered Polaris--a school that was an even better fit for my personality and philosophy of education. I have been here for 12 years for a total of 22 years in teaching. I'm ecstatic to be able to say that I still laugh and learn everyday and, when that stops, I guess it will be time to move on.
Interests/Hobbies:
I enjoy most any sport with biking, ultimate frisbee, and soccer being my favorites. Recently, my wife Brenda (Integrated Services teacher here at Polaris) and I have gotten into paddleboarding and hope to do this for many years to come. Reading, walking, and taking romantic road trips with Brenda are also right up there.
Thought Provoking Quote:
"Rivers know this -- there is no hurry. We shall get there some day." --Winnie the Pooh--
It speaks to many things, including: my sometimes whimsical, meandering nature, the character of water and it's symbolic action in Taoism and my life, the progress us all in our respective educational journeys and, of course, to the wisdom of Pooh himself.
My Classroom
Courses Taught:
Science: Physics, Chemistry, Genetics, Geology
Math: Algebra 1, Geometry, Algebra 2, and Pre-calculus
Personal Finance
About My Classroom:
Students have described my classroom as a little nutty, sort of loud at times, safe, and rigorous with a high level of expectation. Oh, and also frustrating because when they ask me for an answer, I nearly always ask them another question to help them get there on their own. I expect students to be on-task, frequently revisiting them to check for understanding if they are not.