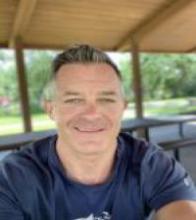 About Me
What inspired you to get into the field of education?:
I was inspired to teach by a wonderful teacher that opened my world to learning in a fun and innovative way. I work to pass it forward!
What's the most rewarding part of your job?:
I love seeing students have that aHa!!! moment!
General background information (years in education, degree(s), Universities/Colleges attended):
My former career I worked as a commercial photographer. I returned to school for another degree attending Colorado State University as well as La Universidad de Alcalá in Spain.
Interests/Hobbies:
Outside of school I love to camp with my family, rock climb and build things out of wood and steel.
Thought Provoking Quote:
Tell yourself you can, try hard, don't ever give up!
My Classroom
Courses Taught:
I teach Spanish levels 1-3, World Language Explorations, Geometry in Construction, Outdoor Living and Short Film.
About My Classroom:
I like my classroom to be as interactive as possible. I feel when students are doing and experiencing more, they will learn more.