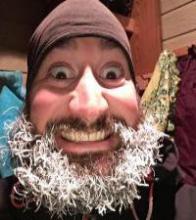 About Me
What inspired you to get into the field of education?:
I LOVE creating things.
Inspiring students to turn on their creativity and use it address their feelings, thoughts and opinions about what's going on in their world is why I teach.
What's the most rewarding part of your job?:
Seeing students grow over the years and eventually come back as alumni to TEACH ME new things is the most satisfying part of education for me.
General background information (years in education, degree(s), Universities/Colleges attended):
I originally hail from upstate New York.
My loves include my family, climbing trees, building bizarre creations, reading, drawing, hammocks and good food.
I can't stand to throw stuff "away" so I tend to horde treasures in my classroom and home. Creatively repurposing wood, dumpster scores and other weird objects is what fuels me as an artist.
My Classroom
Courses Taught:
Drawing - Painting - Pottery - 2D Design - 3D Design - Design Foundations - Printmaking - Sculpture - Art History - Fiber Arts (and more : )
About My Classroom:
My philosophy is that ANYONE can do art. ANYONE can create. It is just a matter of hard work, tenacity, perseverance and keeping an open mind to find the right art medium.
From middle school art to all of the myriad high school classes I offer, I try to expose students to the multiple facets of the creative process.